The Nelons
With feet firmly planted in faith and family, drawing from the stream started by the Lefevres and carried on by Rex Nelon, Kelly, Jason, and Amber crystallize a new vision for the Nelons' three decade gospel legacy.
With numerous awards and accolades including three GRAMMY Nominations, Six Gospel Music Association DOVE Awards and many songs that have soared to the top of national radio charts, this family trio continues to produce innovative music that embraces their traditional roots, while simultaneously reaching beyond various musical boundaries with an emphasis on introducing songs for the church. All the while bridging the generational gap of music lovers with incomparable harmonies and great songs.
The Nelons continue a heavy touring schedule consisting of more than 150 concerts annually that takes their brand of Christian music around the world, recently just finishing a very successful Scandinavian Tour. They are regulars on the famed Gaither Homecoming Video Series. In addition they have become sought after worship leaders in various State Music and Choral Conferences.
During the rare times when the Nelons are not on the road, they serve as Artists in Residence at Jacksonville's Trinity Baptist Church. As they travel, they're Ambassadors for Trinity Baptist College, where Amber is a sophomore.
For (original group member) Kelly Nelon Clark, singing alongside her husband (song-writer and group arranger) Jason Clark, and daughter (vocal power-house), Amber Nelon Thompson this is a full-circle moment as she reflects on the countless nights she shared the stage with her Hall of Fame Father, Rex Nelon.
Today, the Nelons take all the elements you've come to expect from the group—unparalleled vocal excellence, a sound built on the interplay between a soaring soprano and Kelly's emotional smooth alto with an intertwining tenor, and add impeccable tight family harmony with an uncanny gift of communicating God's love and you have a worship experience that you'll not soon forget!
CHRISTIAN VOICE AWARDS
2010 - Favorite Female Vocalist (Kelly Nelon)
2010 - Favorite Trio
2009 - Favorite Alto (Kelly Nelon Clark)
GOSPEL VOICE AWARDS
1989 - Female Vocalist of the Year (Kelly Nelon)
1987 - New York Film Festival Bronze Award "Famine In Their Land" video
NARAS GRAMMY AWARD NOMINATIONS
1990 - Best Southern Gospel Album "Let The Redeemed Say So" 1982 - Best Gospel Performance (Traditional) "Feeling At Home" 1979 - Best Gospel Performance (Traditional) "Feelings"
GMA DOVE AWARDS: SOUTHERN GOSPEL ALBUM OF THE YEAR
1985 - The Best And A Whole Lot More
1984 - We Shall Behold The King
1983 - Feeling At Home
1982 - One Step Closer
SHORT FORM MUSIC VIDEO OF THE YEAR
1987 - Famine in their Land
TOP 5 RADIO SINGLES: ACCORDING TO THE SINGING NEWS AND CHRISTIAN VOICE
"He Called Me Out"
"I Choose The Lord"
"We Speak Your Name"
"Love You With My Life"
"O God It's You"
"He Found Me"
"Settled At The Cross"
"Come Morning" (#1)
"I'm Glad I Know Who Jesus Is" (#1)
"O For A Thousand Tongues" (#1)
"That's Enough" (#1)
"The Sun's Coming Up"
"We Shall Wear A Robe And Crown"
"Bring My Children Home"
"
"I'll Talk To The Father"
"More Than Conquerors"
"Jesus Is Your Ticket To Heaven"
"We Shall Overcome"
"I'm Gonna Keep Walking"
"Thanks"
"Let the Redeemed Say So"
SINGING NEWS FAN AWARDS
1990 - Favorite Alto (Kelly Nelon)
1988 - Favorite Vocalist of the Year (Kelly Nelon)
1987 - Favorite Alto (Kelly Nelon)
1985 - Favorite Alto (Kelly Nelon)
1985 - Favorite Band
1984 - Song of the Year ("O For A Thousand Tongues")
1982 - Female Vocalist of the Year (Kelly Nelon)
1982 - Mr. Gospel Music (Rex Nelon)
1982 - Favorite Bass (Rex Nelon)
1981 - Female Vocalist of the Year (Kelly Nelon)
1981 - Favorite Mixed Group
1980 - Female Vocalist of the Year (Kelly Nelon)
1980 - Favorite Song ("Come Morning")
1980 - Favorite Bass (Rex Nelon)
INSPIRATIONAL ALBUM OF THE YEAR
1993 - Generation 2 Generation
(Kelly Nelon along with 4 him, and Billy & Sarah Gaines)
PERFORMANCES
Gaither Homecoming Tour
Gaither Homcoming Video & TV Series
TBN
700 Club
Daystar
Christian Television Network
Sky Angel
Gospel Music Television
Fox
GMA Dove Awards
The National Quartet Convention
The Singing News Fan Awards
SGM Fan Fair
SBC Conservatives of VA Convention
SBC Louisiana State Conference
Music Florida
The Opry Nashville, TN
Dollywood
Silver Dollar City
Six Flags
Chik-fila Corporate
The Opryland Hotel
The Texas State Fair
The Georgia State Fair
The Illinois State Fair
The Kentucky State Fair
CBA (Christian Booksellers Association) Convention
The Moody Church Chicago, IL
NRBA (National Religious Broadcasters Assn.) Convention
Focus on the Family
Plus countless churches, venues, festivals, and conferences around the world.....
Kelly Nelon Bio
Kelly Nelon is a Dove award winner and Grammy nominated performer, singer and actor. She is one of the most recognized vocalists in Gospel Music and tours the country with her family group, The Nelons. Kelly is no stranger to the stage, but recently stepped into acting with films like "His Love Is Blind", "The Cardinal Rule" and "Losing Faith". She is in the process of filming "Mission Improbable", "The Reins Maker", "Messenger of Light", and "The Old Rugged Cross". Kelly's television credits include ABC's "Resurrection", "Drop Dead Diva" and "Homicide Hunter". Kelly is a fan favorite wherever she performs.
---
The Americana Sessions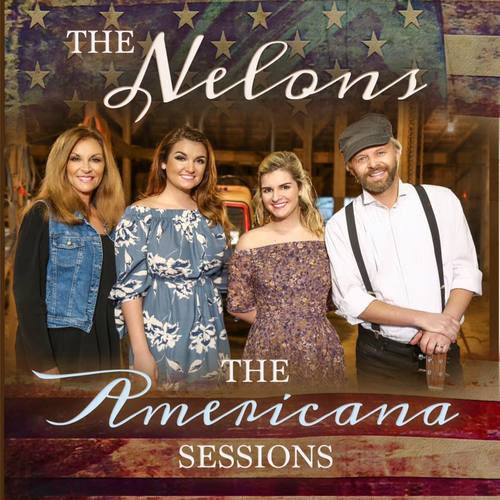 (November 24, 2017 – Nashville, TN) - The Nelons, known for their intricate family harmonies and soaring vocals, have put their signature style on beloved American classics with their new release, The Americana Sessions, available today on Daywind Records.
Produced and arranged by Jason Clark, the project features iconic classic compositions with intricate and stunning family harmonies, delivering the musical excellence that Kelly, Jason, Amber and Autumn are known for. From Glen Campbell's "Gentle On My Mind," to Dolly Parton's "Coat of Many Colors," and "An American Trilogy," to "Bridge Over Troubled Water," The Nelons weave songs of faith, family, God and country in a seamless journey on what could be condisdered a songbook of American culture.
To support the new release, The Nelons have embarked on The Americana Sessions Tour, receiving rave reviews with many SOLD OUT performances in theatres across the country.
The Americana Sessions is available now at www.TheNelons.com, iTunes, Amazon and other digital retail outlets.
FULL TRACK LISTING:
Gentle on my Mind
Colors of the Wind
Coat of Many Colors
You Needed Me
Daddy and Son
Bridge Over Trouble Waters
Oh, Senendoah short video sample
Take Me Home, Country Roads
An American Trilogy
Mama Tried
Battlefield
Kelly and Jason Clark raised their daughters Amber and Autumn with a a love for God, family, and country.  Their latest Daywind Records release The Nelons - The Americana Sessions is a musical expression of that simple, bedrock principle of their family - Love for God, family, and country.
Americana Music is birthed by the influence of shared and varied music traditions of the United States of America.  It's music that comes for the heart of the American experience. Sometimes it's a very explicit expression of pain and suffering as found in spirituals. Other times it's found in the pride of our nation in our patriotic anthems and tunes we hear while watching fireworks on the Fourth of July. Often times it's found in our hearts, in love songs that couples have shared for generations. It can be found in our family traditions, such as gathering around the piano or guitar singing folk songs handed down from generation to generation. It can be experienced in the simple joy of turning up the car radio and singing along "at the top of our lungs" with our favorite song. And it can be felt in the tear that streams our face as a song reminds of someone remembered or a moment in time long past.
Regardless of your favorite song or style of Americana music, most music historians will tell you the unquestioned root of all genres of "American" music is gospel music. So, it just makes sense that the most qualified of all music artists to sing America's music would be a family whose roots in gospel music are firmly planted - Gospel Music Association Hall of Fame members, The Nelons. And the songs that weave throughout the fabric of our great nation - songs of faith, family, and country are what you will find on this latest recording and are the basis of a new tour.
"Faith informs and is the foundation of everything we do," states Kelly Nelon Clark. "It's just not about the music, but in all facets of our lives.  We do the best we can humanly do to conduct our lives and make decisions based upon our relationship with God and His Word. So, stepping out to record and perform songs that aren't necessarily blatantly Gospel songs was not something we did lightly. A lot of prayer, thought, and counsel went into this. But we felt this was a door that God was opening for us. And this is not solely for our benefit, but an opportunity for us to take His message of hope and love to new venues and audiences that we have never sung to in our forty year history."
Jason Clark says that when a promoter pitched the idea to The Nelons about performing their signature gospel music along with family friendly American standards in civic centers and fine art centers across the country with a live band, it inspired him to "flip an old model on its head."
"When I was a kid, on our way to church on Sundays," Jason shares, we listened to the local radio station play gospel songs by the top gospel groups and also country artists like George Jones, Merle Haggard, Loretta Lynn, the Statler Brothers and others. It was standard practice back then that country music artists would make gospel records and would sing a gospel song or two on their TV shows or at fairs and concerts. So, I thought it would be great to record some of our favorite folk, country, and family friendly songs and sing them at these concerts to draw in the audience. Maybe connect with them in a different way. We'll still be The Nelons and will still sing our signature Gospel songs. But this gives us a chance to try something new."
"Our connections to country music are stronger than most people realize," Kelly interjects.  "While with The LeFevres, my father was on the Porter Wagoner Show, had a small role in a movie with Jerry Reed and Burt Reynolds, and was on the Grand Ole Opry several times. And we recorded songs written by country stars like George Jones. Harold Reid of The Statler Brothers even wrote the backliner notes on one of our albums. And one of Daddy's closest friends was Duane Allen of the Oak Ridge Boys. We recorded our first album at his studio in 1977 when the group changed  names from The LeFevres to The Rex Nelon Singers. This group is my father's legacy and I truly believe he would be proud of this album and would enjoy this tour as much - and probably more - as we are enjoying it."
The songs that Kelly, Amber, Autumn, and Jason present all reflect life in America from varying perspectives with common themes. There are songs of faith, home, family, and America. There are songs about love and relationships; mistakes and disappointments; joy and redemption; memories and longing. There are songs you know and love and will sing along with over and over.
The concerts take you back in time to a place where life was simple. You'll laugh, cry, reminisce, and rejoice. You'll thank God for His blessings. And just maybe when you leave, you'll have just a little more love for the things that last forever and are the most important in your life - God, family, and country.